This is not your typical business post but a reflection on life. What else can you do as you walk for 100 km through the regions of Navarra and Rioja in Spain?
I just came back from completing a portion of the Camino de Santiago de Compostela or Saint James Way with my family, what an incredible experience!
This was an item on our bucket list (my husband and mine), and we never imagined we would complete it with our two kids, 10 and 12 years old. We originally envisioned this trip early in our relationship, and we thought we would do it before we had kids, but 17 years later, with two kids in tow, we have started our way. Yes, I say started, as the full route is about 900kms, which we plan to complete in 3 years. We decided to take it easy this year and make sure that our kids had a good experience for their first leg of the way.
The Camino de Santiago is a network of pilgrimages leading to the shrine of the apostle Saint James the Great in the cathedral of Santiago de Compostela in Galicia in northwestern Spain. Tradition has it that the remains of Saint James are buried here. Many have followed its path as a form of spiritual enlightenment and growth. It's also popular with hiking and cycling enthusiasts and organized tour groups.
We followed the French route, which is the most popular way and the one with the most access to restaurants & hostels. We chose it, as it was essential for us to have the flexibility to set our own pace and be able to stop more often if required since we were traveling with two kids.
We completed the segment from Pamplona to Navarrete, which is about 100 km.

I was aware that this trip would bring personal growth and physical challenges, but I wasn't aware of the lessons I would learn along the way. These are the ten things I have learned while on my first Camino and many of these I will be applying in my life and business as I go forward.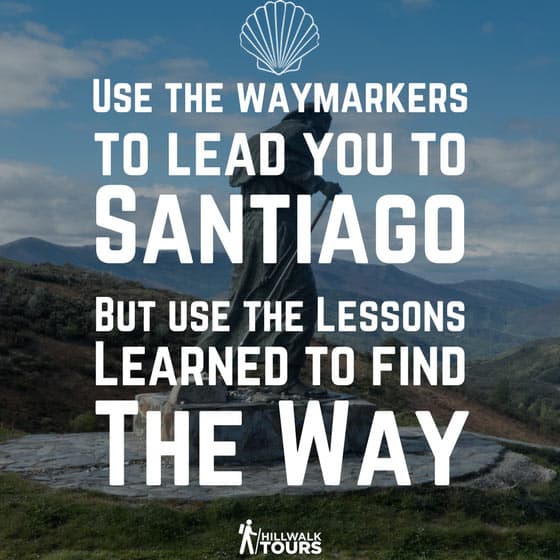 1. Planning is essential, but flexibility is a must.
It is crucial to have a plan. I spent many nights researching our Camino route, calculating distances and elevation gain. I wanted to ensure that we made it to our last city to be able to have a couple of days to explore Bilbao before heading back to Calgary. But in the end, we ended up deviating from our plan quite a bit. We came across some unforeseen circumstances and had to take the bus on two occasions. Once, because one of my sons got sick with a throat infection and the second was due to a major festival in one of the towns on our route.
2. We don't need a lot of things to be happy.
Everything I needed for my two-week trip was contained in my 6.5 kg backpack. My choices about what to wear daily reduced to one single choice, anything clean. Next time I go, my pack will be even smaller as I realize that I had too many pairs of socks and I only got my selfie stick out once. I won't be carrying it next time.
3. If dinner is scheduled for 7 pm at your hostel, be there by 7 pm.
If you show up by 7:05 pm, you will most likely end up sitting beside a person that speaks only one language (most likely not English) and therefore be unable to share your travel stories from the day.
This happened to us twice as we showed up a couple of minutes late and the only spots available were at the far end of the table beside a German gentleman (on both occasions but different German gentlemen). My German is limited to about five words, two sentences, and counting to 20. Regardless of our language issues, we discovered the most interesting people, and in the end, were able to immerse ourselves in great conversations.
We found that one gentleman had walked from the front door of his house in Munich, down to Bavaria, Lichtenstein, across Switzerland, France, and had joined the Camino at Saint-Jean-Pied-de-Port and had now made it to Pamplona. He had walked over 2,000 km.
4. The pilgrims are indeed a community, embrace it.
In the beginning, I felt a little odd about approaching strangers, joining tables, and starting conversations. My 12-year-old was very different, being the extroverted kid, he is, he joined the first available table he found in our hostel on the first night. He sat with two young English men, and we all ended up sharing their meal and having a fantastic night together. After a little while, we were joined by a Spanish father and daughter team that had been traveling the Camino for a while. Being our first day, we got so many tips from all of them, and I was so grateful for the great conversations that we had.
5. Wish everybody you see a 'Buen Camino.'
One of the most wonderful things we experienced along the way, was the absolute camaraderie from the other pilgrims and from the locals in each town along the way.
Every time we came across somebody, they will wish us a 'Buen Camino.' All the locals were more than willing to help with anything they could and to point you in the right direction. A couple of times, we decided to deviate from our path to explore our surrounding. However, we had many of the locals stop us to make sure we were not lost and hadn't lost our path.
Sometimes the path got hard, the sun got hot, we were tired, thirsty and achy, and having some of the locals call out to you with 'Buen Camino' or to praise and high five the kids calling them 'Valiente' (brave) put a smile on all our faces and was the motivation we needed to keep going.
6. Cheer each other up.
The long road ahead can get tough at times. You might not have gotten a good sleep the night before, you may start to feel sick or run down, your muscles will definitely ache, and therefore it can be hard to face a steady inclined path that will last 4km. But what gets you through the struggle, is your Camino family and community, cheering you along the way.
When my older son got sick, it took real effort for him to walk 5 km to the next town. But our family always cheered him on and he made it. When I developed a problem with my foot only 3 km away from our last destination, he cheered me on the whole way. He would have carried me if he could. When I thanked him at the end of our journey, he told me. 'Mom, you did that for me when I wasn't feeling well, and it was what got me through.'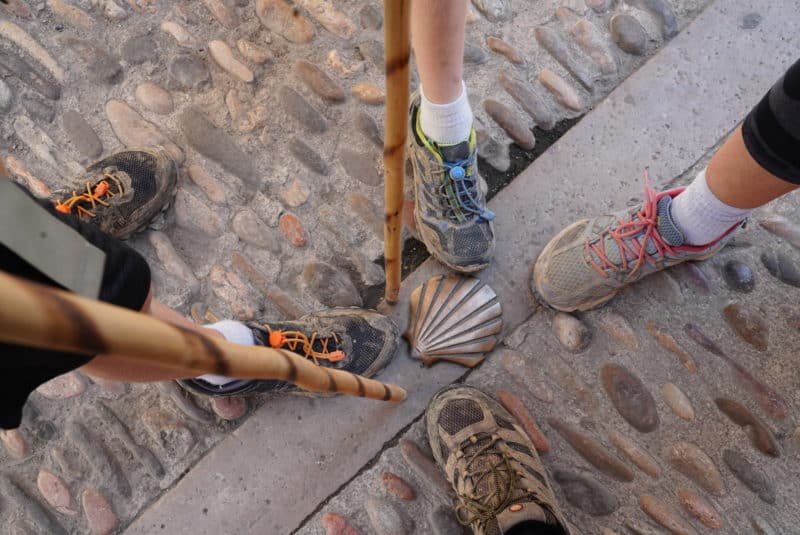 7. Be kind to your body.
If you push it too hard, you will damage it, and a damaged body won't go far. Learn how hard you can push your body, know your limits, and be kind to your feet, knees, hips, etc.
We came across people on the Camino that had pushed themselves too far and as a result, ended up having to rest for a while or skip entire sections of the pilgrimage altogether. All because they didn't listen to their body.
8. Believe in yourself.
You can do more than you believe. I never imagined that I would be able to carry a backpack for almost 20 km a day with a bad knee and back. My back has always given me trouble since I was a kid.
Well, neither my back nor my knees were a problem. There was not a flinch of discomfort during the trip. Now I know that these perceived issues will never stop me from doing anything in the future. Set a goal for yourself and get it.
9. Pleasure is in the journey, not the destination.
I did not want the journey to end. I truly felt joy almost through the entire way, and I saw the joy in my husband's eyes. Even if it was a tough day, a smile was never too far away. The conversations we had and the silent walks with the family were magical. The scenery was amazing, even on the rainy days. I would not change this experience with my husband and kids for anything.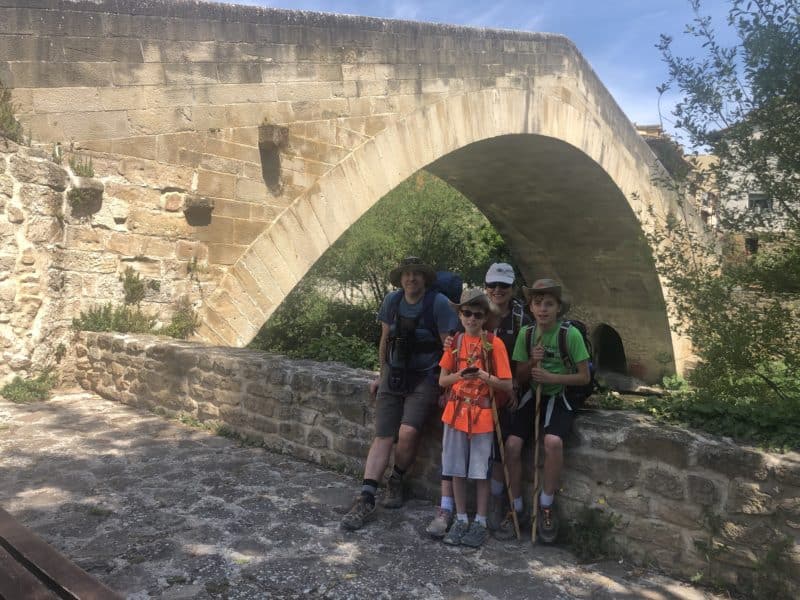 10. Walk slow, stop for extended breaks, enjoy the three-course meals, and drink lots of wine along the way.
There is no reason to rush; everybody arrives at the end at their own pace. Make sure you step the pace that is right for you to immerse yourself in the journey.
Stop for a break when you have to, have lunch at the plaza, make yourself a Bocadillo of Jamon Serrano and a Baguette, and most importantly enjoy the view.
There is nothing better than a three-course pilgrim meal served at the hostel after a long day of walking. By the fourth night, my oldest son told me during dinner. 'Mom, Europeans got it right, can we adopt the three-course meal thing in Canada?' that comment was followed by a thoughtful and profound conversation about the importance of food and sharing a meal for some cultures – Spanish / French / Italian, vs. the North American way of eating as fast as you can in front of the tv to carry on with your day.
Drink the wine, yes, drink the wine. You will be provided with a bottle of wine with your three-course meal (included in the price 10 – 12 Euros), sometimes the wine is average, and sometimes it is good, we even got terrible fizzy wine in one instance, but share a glass of wine with your pilgrims. It's good for your heart, in more ways than one.
Buen Camino!